CWA Engineers Inc. is a multidisciplinary engineering and planning consultancy that provides professional services in the ports and marine terminals, bulk materials handling, mining and minerals, and construction materials sectors to industry-leading clients around the world.
Research a service of an established company. Define their product mix concept, advertising objective, distribution and promotional strategies then come up with promotional mix recommendations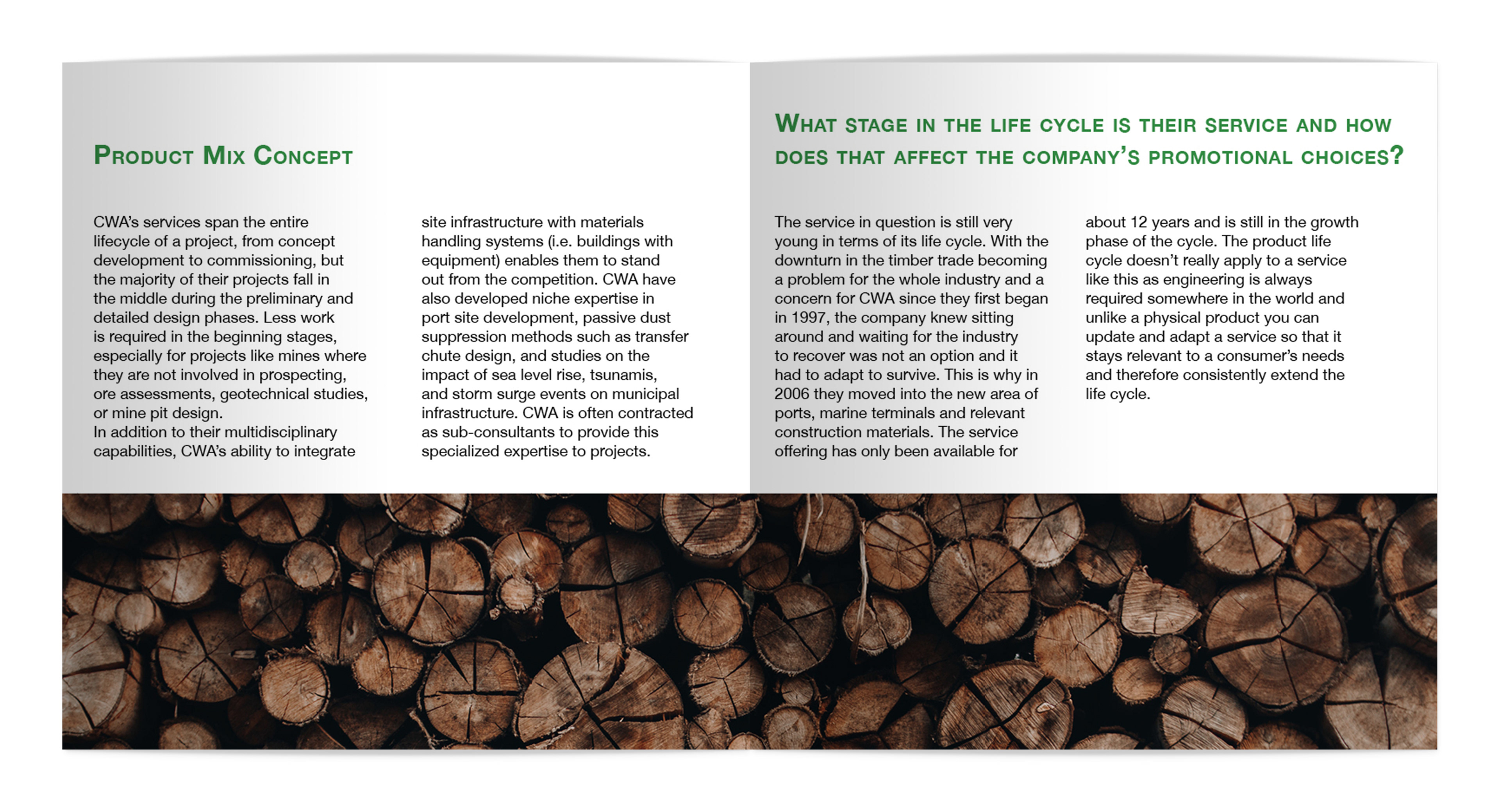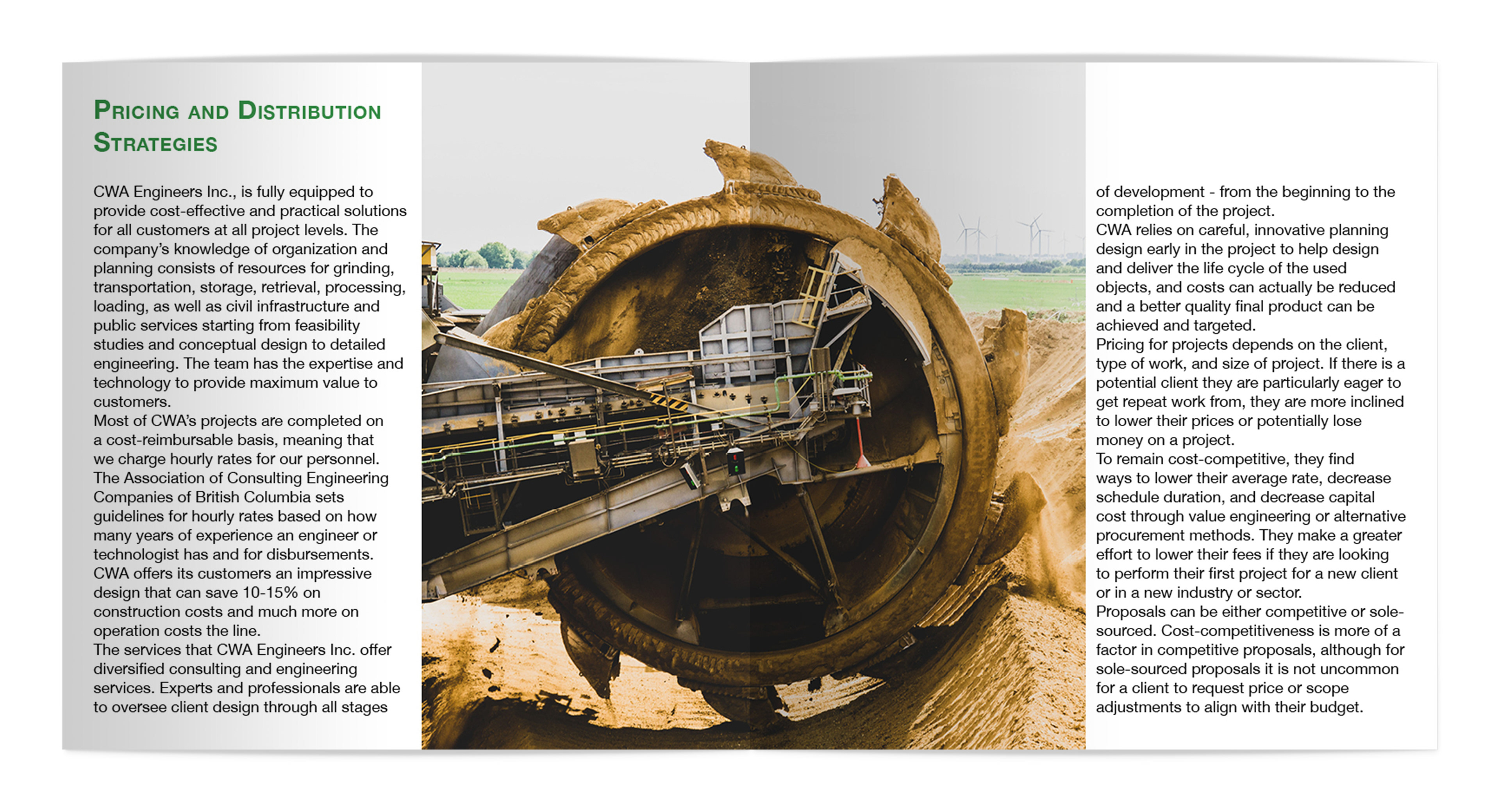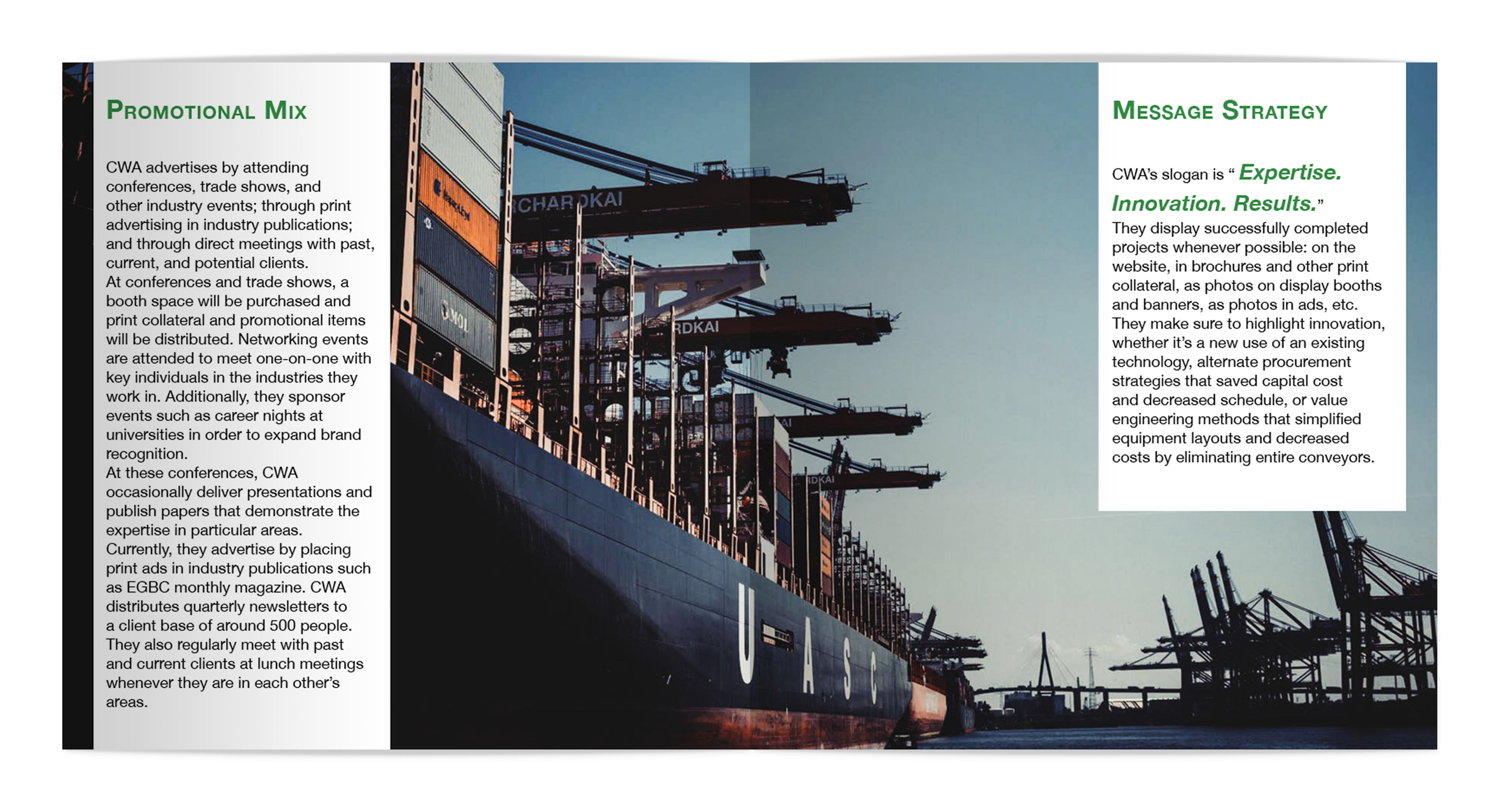 Focus on raising awareness of the great work they do including not for profit campaigns and aim to raise the public profile of CWA to a broader target market with a public relations campaign using social media. Currently, CWA lacks in promoting events such as non-profit campaigns that would assist in creating a broader awareness and positive public image of al the good work they do. Raising awareness of how much engineering affects the lives of everyone and how much it impacts people more than they know would help create a deeper understanding and respect for a company like CWA.
These efforts should run consistently throughout the year to keep the company top of mind in their most frequent users.

Types of postings include:
- images of site visits, ongoing and completed projects with explanations and commentary about how they are having a positive impact on the community
- showing how team building promotes a healthy and happy working environment for any potential employee

A budget is a crucial part of any marketing plan. It gives a clear overview of all costs associated with carrying out the marketing activities. To run the social media campaign, CWA will have two options.
The first one is to employ a social media specialist to attract and interact with target virtual communities and network users. This person should be able to set up and optimize company pages within each social media platform. The salary of the social media specialist is approximately $40,000 - $50,000 annually.
The second option is that CWA takes advantage of their current marketing team and ask them to start and run the social media campaign. In this way , they can save some money, but may not get the same results.

How this strategy would impact the company is by increasing awareness of the good work CWA does across all of its projects. To ensure awareness, they can use a baseline metric of Likes and Follows as part of the Insights function. Most people don't know much about engineering firms so it's best to aim to stand out from the competition and create points of difference by educating people on how engineering impacts their daily lives and how important it is. This would hopefully lead to repeat business from existing customers and the increased awareness coupled with the positive brand image.